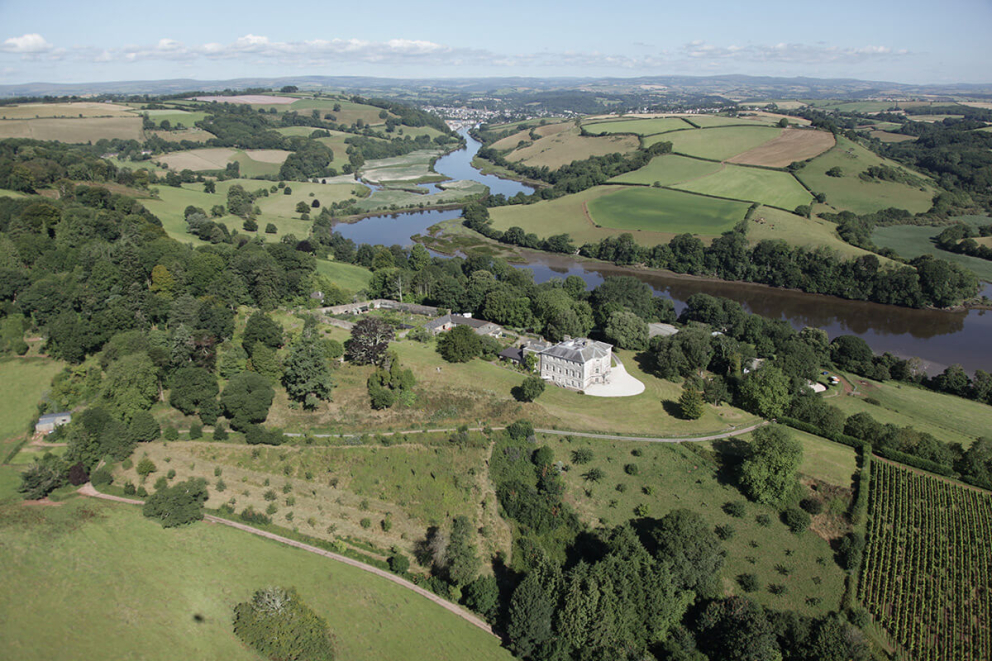 Sharpham Trust
After several years in the planning, and following the retirement of its previous owner, Sharpham Wine has been bought by Sandridge Barton vineyard and its winery and café have moved from Sharpham Vineyard near Totnes to a new site across the River Dart near Stoke Gabriel.
We wish them well in continuing to make their award-winning wines.
Meanwhile, the non-organic vines growing on the slopes in front of Sharpham House are going to make way for a new use of the land, no longer reliant on pesticides and chemicals.
The Sharpham Trust runs the 550-acre Sharpham Estate beside the River Dart. It is a mindfulness and nature charity working for a more mindful, compassionate and environmentally-sustainable world, and its estate is now managed entirely organically.
Sharpham Estate land certified organic – and nature is respon

ding
---
The Trust is currently rewilding 50 acres of its land in a project funded by the National Lottery Heritage Fund, and the last of the Estate's three farms attained official organic certification earlier this year.
Two years into the rewilding project Wild For People, the Trust and its rewilding partners have measured an increase in insects, birds and mammals on land that was previously farmed using artificial fertilisers and pesticides.
Flocks of stonechats, swallows and swifts now inhabit and fly over the rewilding fields, feeding on the increasing insect-life.
Dung from organic grazing cattle is no longer full of pesticides, allowing for dung beetles to thrive and become a much-needed food source for foraging bats like the Lesser and Greater Horseshoes that fly at Sharpham.
Mice and voles are flourishing in the longer ground cover, providing prey for raptors including barn owls and kestrels, which are being seen in larger numbers over the rewilding fields.
We have and will continue to host events where the public, including local schoolchildren, can connect with nature and learn about the rewilding.
The project is investigating how farming, public engagement, historic parkland and nature can work together, whilst extending The Trust's principles:
An understanding of the interconnection of life

A deep respect for the natural world

A belief in learning through experience, creative engagement and enquiry

An acknowledgement of the value of stillness and awareness
A new era for The Trust
---
"This is the beginning of a new era for The Trust" said Chairman Daniel Stokes. "The Trust's founders Maurice & Ruth Ash planted the vines 40 years ago and it is sad to see them go but the vineyard could not be viably managed without the use of chemicals.
"The Trust now wants to manage its land fully organically and explore new regenerative agricultural practices to enhance our natural environment and make this beautiful estate accessible to people who want to come on retreat with us and re-connect with the land".
Find out more about Sharpham's Wild for People project here: www.sharphamtrust.org/wild-for-people
Find out about staying on nature and mindfulness retreats at Sharpham here: www.sharphamtrust.org/retreats
A new film shows the results
---
A film outlining the results of two years of rewilding at Sharpham has been launched. See it here: