Mindfulness & Yoga
Incorporate the principles of mindfulness into your yoga practice on our popular Mindfulness & Yoga retreats at Sharpham House.
Working with the breath and the body, you'll be guided through movements, asanas (postures) and pranayama (breathing) practices to facilitate moment-by-moment awareness.
The retreat programme includes dedicated yoga sessions alongside sitting meditation, connecting both practices to deepen your sense of mind-body awareness.
Experienced leaders from a variety of yoga and mindfulness backgrounds are there to support you, plus you'll enjoy periods of free time to rest and reflect on your learning, in a place far from the busy-ness of normal life.
Each yoga retreat differs in style, depending on the teachers who are leading.
Yoga teachers and their styles
Patti Summerville's core yoga teacher training is Integral Hatha and she creates a framework that links traditional yogic and modern secular mindfulness principles where 'your yoga practice becomes your meditation'. Classes will include pranayama (breathing), asana (posture) and nidra (deep relaxation) to cultivate a mindful practice and prepare for other formal mindfulness meditations.
The retreat is suitable for beginners or those with some previous yoga experience.
Retreats led by Maite Alonso will draw on her experience of Kundalini yoga and Shakti dance, using breathing exercises, fluid stretches and flowing energy movements from both.
Retreatants new to yoga and mindfulness will experience low-intensity exercises, stretches and movements, whilst those more experienced in yoga will be encouraged to work with mindfulness to bring a deeper awareness to their movements.
Jess Stein has been teaching yoga since 2010. Her practice is based in the Scaravelli approach, as taught by Christine Borg. This yoga is playful, attentive and curious and encourages fluidity and flexibility by working with the natural lines and curves of the body. Her teaching also draws on her training in Dru Yoga, qi-gong and other movement practices.
---
This retreat is for you if you are:
New to mindfulness or are looking to sustain and reconnect with your practice in a new way
Feeling overwhelmed, stressed or anxious by the demands and pace of modern life
New or experienced in yoga
Keen to work with mindfulness principles in your yoga practice
Looking for tools and resources to sustain you in your everyday life
---
During this retreat you'll:
experience yoga practice perfect for beginners and the more experienced alike
have free periods each day to relax, reflect and rejuvenate
enjoy delicious home-cooked vegetarian food
gain opportunities to reconnect with nature and to benefit from the very special location of Grade 1-listed Sharpham House and Estate, set within a designated Area of Outstanding Natural Beauty.
---

---
Although meditation and mindfulness can be helpful in managing stress, depression and anxiety our retreats might not be suitable if you are experiencing major depression or other clinically diagnosed psychiatric illness such as bipolar disorder, psychosis or current self-harming. Click here for more information and for our booking process.
This retreat is for adults aged 18 and above.
Example yoga retreat programme
Arrive between 4-5pm for welcoming talk and settling in
| Mornings | Afternoons/evenings |
| --- | --- |
| 6.45am – wake up | 12.30pm – guided meditation |
| 7.15am – guided yoga | 1.00pm - lunch |
| 8.00am - sitting meditation | 2.30pm – personal time |
| 8.30am – breakfast | 5.00pm – yoga |
| 10.30am – walk or personal time | 6.30pm – teaching or guided sitting meditation |
| | 7.00pm – supper |
| | 7.45pm – personal time |
| | 8.45pm – yoga nidra deep relaxation |
| | 9.00pm – House moves into silence until 10.00am the next day |
Final day: depart 11.45am
Your knowledge is incredible. Yoga has never felt so good
A wonderful, well-planned retreat for people of all levels of experience with yoga and meditation. Wonderfully good people and set in a truly amazing location. Thank-you so much!
Sharpham is the perfect place to experience the benefits that come from mindfulness and yoga
I really enjoyed the 3 days. I wish it could be longer! Amazing experience - I will be doing it again
Directions
Click here for directions.
---
Our venue
This retreat is in the beautiful and historic Grade 1-listed Sharpham House set in a Capability Brown-designed landscape with stunning views over the steeply-wooded River Dart. The retreat is full-board with delicious home-cooked vegetarian food.
---
Our food & your dietary needs
In line with sustainable practices across the Estate, our cooks produce seasonal, vegetarian food for our guests. We source food whenever possible from our kitchen garden and support local food suppliers. The Estate's farm tenants produce award-winning wine and cheese as well as organic eggs, meat and vegetables.
We are used to accommodating a wide range of dietary needs including wheat-free, diary-free, vegan etc. Please indicate on your booking form if you have a dietary need. The booking form is sent as a link once you have booked and paid for a retreat.
---
Sustainability
We take sustainability seriously. All of the hot water and heating in the House is produced by a state-of-the-art bio-mass woodchip boiler and we have 2 large photo-voltaic arrays on barn rooftops. Our gardens are managed organically and we only use bio-degradable cleaning products.
3 nights
£325 - Standard room, full-board.
£375 - Premium room, with views over the River Dart, full-board.
4 nights
£375 - Standard room, full-board.
£425 - Premium room, with views over the River Dart, full-board.
Brenda Nagy
Brenda started her meditation practice in the 90s with Friends of the Western Buddhist Order, (now known as Triratna), and has integrated mindfulness practices into her personal and working life for over 20 years. Her pursuit of a more mindful life has been sustained and nourished by attending regular retreats in the UK, India and Nepal. She took an Eight Week Mindfulness for Stress Reduction Course at the Centre for Mindfulness Research and Practice at Bangor University and was a Volunteer Co-ordinator at The Barn Retreat Centre on the Sharpham Estate in 2013. Brenda lives in Devon and works at a local college where she leads and takes part in daily meditation sessions. She is passionate about supporting and encouraging others on their meditation journey.
---
Lynne Holmes
Lynne has a background as a nurse, health visitor and also trained as a psychotherapist at Metanoia in London in the early 1990s. While training as a therapist she became interested in meditation and has practiced for the last 15 +years. She has trained as a Mindfulness Teacher at Oxford Cognitive Therapy Centre, Bangor University and Exeter University. She teaches MBSR groups for the Mood Disorders Centre at Exeter University and also mentors and supervises students taking the Mindfulness Diploma. She is passionate about teaching Mindfulness Based Stress Reduction to people suffering from stress and brings a depth of experience and compassion to her work. She has a daily meditation practice, receives regular supervision and attends regular silent insight meditation retreats.
---
Mark Ovland
Mark has been dedicated to practising mindfulness since he discovered meditation in his mid-20s. Since then he has spent a year living as a monk in the Indian Himalayas and over six months on silent retreat. Having served as a residential coordinator for both the Barn Retreat Centre and Gaia House he now travels within the UK teaching mindfulness in a wide variety of settings from prisons to universities. He has trained with a number of institutions including as a Mindfulness Teacher at the Centre for Mindfulness Research and Practice at Bangor University.
Mark is a co-founder and trustee of Freely Given Retreats, a charity that offers donation-based meditation retreats typically revolving around an environmental theme. He is also a co-founder of the Dharma Action Network for Climate Engagement (DANCE), a group that explores and actions possible Dharma responses to climate change.
---
Patti Summerville - Mindfulness & Yoga retreat leader
Patti began a personal meditation practice in 1996 after attending a retreat at the Tushita Institute, Dharamsala, India. Over the years her practice has been influenced by Mahayana and Theravada Buddhist traditions and in 2013 she took on the role of co-ordinator at The Barn Retreat Centre, an Insight Mindfulness Meditation Retreat centre on Sharpham Estate. Patti trained as an Integral Hatha Yoga teacher in 2009 at the Sri Swami Satchidananda Ashram and has undertaken a Mindfulness Teacher training retreat with Exeter University. On a personal level Patti has found great benefit integrating mindfulness practice into her busy, everyday, private and professional life as an Occupational Therapist and is passionate about supporting others on their journey towards more contented, peaceful and compassionate lives.
---
Maite Alonso
Maite Alonso trained in 1991 in Sivananda Yoga in India, in Shakti Yoga Dance in 2009 and in Kundalini Yoga in 2011 in the UK. Her major influences have been yoga, Buddhist meditation and chanting. She has been attending retreats (especially Zen and Insight Meditation) in spiritual centres in the UK, Europe, India, Thailand and California, since 1990. Read more on her website here.
She loves creating, nurturing, healing and forming life-giving spaces in her work as a Shakti yoga dance teacher, and in her massage work in the Totnes area.
---
Jess Stein
Jess was introduced to mindfulness through a yoga practice and the work of zen monk and peace activist Thich Nhat Hanh. She has been a member of Wake Up London, a mindfulness and social action group based on the teachings of Thich Nhat Hanh since 2012. As part of the facilitation team she has offered weekly mindfulness sessions as well as participating in and organising 'flash mobs' and outreach projects. She became a coordinator at the Barn Retreat in April 2015 where she has been continually inspired by the power of mindfulness to transform our relationship with ourselves and the world around us.
---
Ramiro Ortega
Ramiro has practised mindfulness for over 15 years, and Insight Meditation since 2005. He teaches Mindfulness retreats at Sharpham House, as well as 8-week courses for the public, and also facilitates an Introduction to Buddhist Meditation at The Barn Retreat Centre. Ramiro trained to teach mindfulness with the Centre for Mindfulness Research and Practice at Bangor University.
---
Ollie Frame
Ollie Frame has been co-leading yoga and meditation retreats for over five years. Trained in Mindfulness with Bangor University and the University of Exeter, he runs 8-week courses for members of the public as well as courses for teachers and students within schools and colleges. Ollie also works as an Integrative counsellor and has a particular interest in Psychosynthesis, depth psychology and inner journeying. Within the world of mindfulness, he is especially enthusiastic about self compassion, metta meditation and other heart-based approaches.
---
Retreats & Events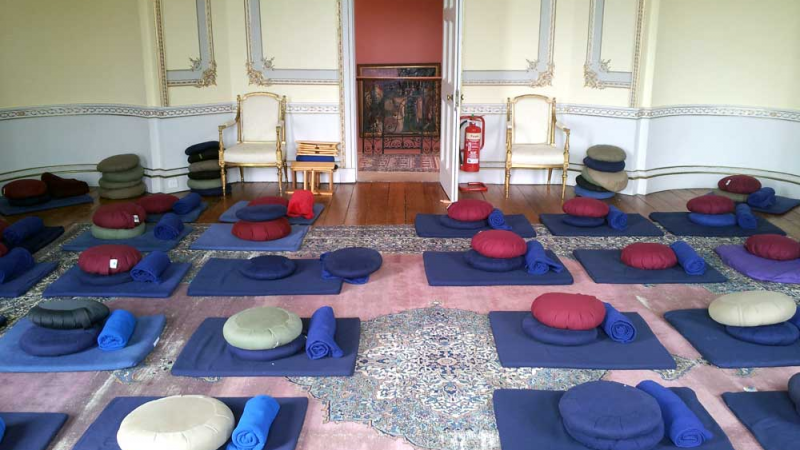 17
Jul
2017
Sharpham House: Mindfulness and yoga retreat - 3 nights (with Jess Stein & Lynne Holmes)
---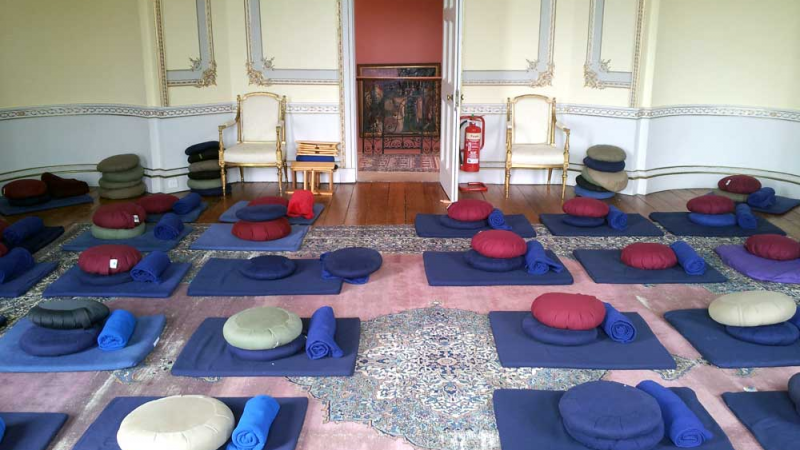 22
Oct
2017
Sharpham House: Mindfulness and Yoga Retreat - 3 nights (with Maite Alonso and Lynne Holmes)
---
All rooms are single occupancy, giving you your own space in which to relax.
There will be a maximum of 14 retreatants on this retreat.
If you have a medical condition that requires you to have an en-suite room, please contact the Programme Administrator on the number below as these rooms are limited and are bookable on a first-come first-serve basis.
How to book easily and securely:
Ring us or email if you've got any questions.
Limited bursaries are available for those experiencing financial hardship. Please contact the Programme Administrator at least 4 weeks in advance if you wish to apply.
Please click here to see our booking and cancellations policy.