Mindfulness through Singing Retreat
This retreat will offer an opportunity to bring mindfulness to singing and singing to mindfulness. Singing can be an uplifting, soulful and life enriching experience, especially if we allow ourselves to become aware of and drop into our felt experience whilst we are singing, whether it is Taize, Gospel, Pop, folk songs or chants. And like mindfulness, singing brings us into coherence both within ourselves and collectively as a group, at any level of experience in group singing.
The programme will follow our usual schedule for retreats, including x3 30 minute guided meditation sessions and opportunities to sing in the extraordinary acoustics of the spiral staircase at Sharpham House and in outdoor locations in our beautiful gardens (weather permitting).
No previous experience of mindfulness or singing is necessary.
---
This retreat offers the opportunity to:
Learn some new songs in a supportive and accessible way – all songs taught by ear.
Experience singing in harmony as meditation.
Explore your own voice as a means of self-expression and communication.
Listen to the silence from which sound is birthed.
Attune to the rhythm of the breath and experience the intimacy of your own belonging.
Use breath, sound and song to explore the meeting of mind, body and sprit.
Develop mindful awareness of your relationship to your voice and singing.
Experience singing as a resource for well-being.
---
This retreat is for you if you are:
New to mindfulness practice and to singing or if you are looking to explore, deepend and reconnect with singing or mindfulness in a new way
Interested in singing beautiful songs in beautiful surroundings
Like singing and would like to explore your voice in a supportive gentle environment
Interested in what it is like to truly be with yourself when you are singing
Wanting to sing in harmony in the company of others
Although meditation and mindfulness can be helpful in managing stress, depression and anxiety our retreats might not be suitable if you are experiencing major depression or other clinically diagnosed psychiatric illness such as bipolar disorder, psychosis or current self-harming. Click here for more information and details of our booking process.
Arrive on the first day between 4.00pm and 5.00pm
Typical daily program
7.30am
Mindfulness Meditation
8.00am
Breakfast
9.00am
Group meeting
10.30am-12.00pm
Stretch, breathe, sing
12.30pm-1.00pm
Walking or sitting meditation
1.00pm
Lunch
2.00pm-4.00pm
Optional guided walk or free time
4.00pm-5.30pm
Singing session
6.00pm
Supper
8.15pm
Meditation
9.00pm
House goes into silence until 8.30am the following day
Final day - closing circle and depart by 11.45am
I have benefited from being here hugely! it has provided contemplation and peace and inspiration from both teachers and the confidence to sing my heart out.
[What I really liked about the retreat was]...the excellent care and thoughtfulness by all staff...the warmth of everyone I met...the fact I felt I CAN sing (wish I had discovered this a couple of years ago!!). Thank you from my heart.
The combination of mindfulness and singing worked really well...we all said how the place was wonderful, the nature, the building, the delicious food, the friendly atmosphere amongst the staff and all us participants
The Sharpham experience was special in many ways - the place, the people and the event itself. I will come away more positive, invigorated and uplifted
I feel as though I have rediscovered some parts of myself that I had almost lost sight of.
Our venue and directions
This retreat is in the beautiful and historic Grade 1-listed Sharpham House set in a Capability Brown-designed landscape with stunning views over the steeply-wooded River Dart. The retreat is full-board with delicious home-cooked vegetarian food. Click here for directions.
Our food & your dietary needs
In line with sustainable practices across the Estate, our cooks produce seasonal, vegetarian food for our guests. We source food whenever possible from our kitchen garden and support local food suppliers. The Estate's farm tenants produce award-winning wine and cheese as well as organic eggs, meat and vegetables.
We are used to accommodating a wide range of dietary needs including wheat-free, diary-free, vegan etc. Please indicate on your booking form if you have a dietary need. The booking form is sent as a link once you have booked and paid for a retreat.
Sustainability
We take sustainability seriously. All of the hot water and heating in the House is produced by a state-of-the-art bio-mass woodchip boiler and we have 2 large photo-voltaic arrays on barn rooftops. Our gardens are managed organically and we only use bio-degradable cleaning products.
3 nights:
£315 - Standard room, full-board.
£365 - Premium room, with views over the River Dart, full-board.
4 nights:
£365 - Standard room, full-board.
£415 - Premium room, with views over the River Dart, full-board.
Ramiro Ortega
Ramiro has practised mindfulness for over 15 years, and Insight Meditation since 2005. He teaches Mindfulness retreats at Sharpham House, as well as 8-week courses for the public, and also facilitates an Introduction to Buddhist Meditation at The Barn Retreat Centre. Ramiro trained to teach mindfulness with the Centre for Mindfulness Research and Practice at Bangor University.
---
Linda Vincent - walking retreat leader
Linda has been practising meditation and yoga for over 40 years and is currently focussing on integrating mindfulness into all she does. Linda spent 2 years at the Barn Retreat Centre as a residential co-ordinator where she had the opportunity to practise mindfulness and meditation on a daily basis, as well as oversee the weekly retreat programme. Linda completed the 8-week mindfulness course via Palouse Mindfulness in the USA as well as Vispassna retreats and yoga teacher training, also in the USA.
Linda is an enthusiastic walker in all sorts of terrains and all sorts of weather! She has led walking holidays and a weekly walking group in Greece, led treks in Morocco and to Kilimanjaro, and walked many miles of the Southern English coastline. She is a great lover of Devon, with its variety of scenery – Dartmoor, the coastline, the villages and lanes, and is keen to share her knowledge of this area with you.
---
Emily Roblyn
Emily Roblyn is an experienced voice teacher and performer. She has been running community choirs for over 10 years and belongs to the Natural Voice Practitioners Network. She has been exploring "embodied presence" and mindfulness through the 'Movement of Being' work in Devon for the last 5 years, and has used singing as a meditation throughout her life. She is passionate about sharing her love of music and its potential for supporting connection to ourselves and each other.
---
Roz Walker
Roz has been running choirs and singing workshops locally in the South Devon area and internationally for over 20 years, and is a member of the Natural Voice Practitioners' Network. Roz found her passion for singing through working as a Community artist in the 80's and later trained with the Open University and with numerous voice teachers – a journey that has taken her round the world in search of glorious music and communities that use singing to promote happiness and well-being.
---
Retreats & Events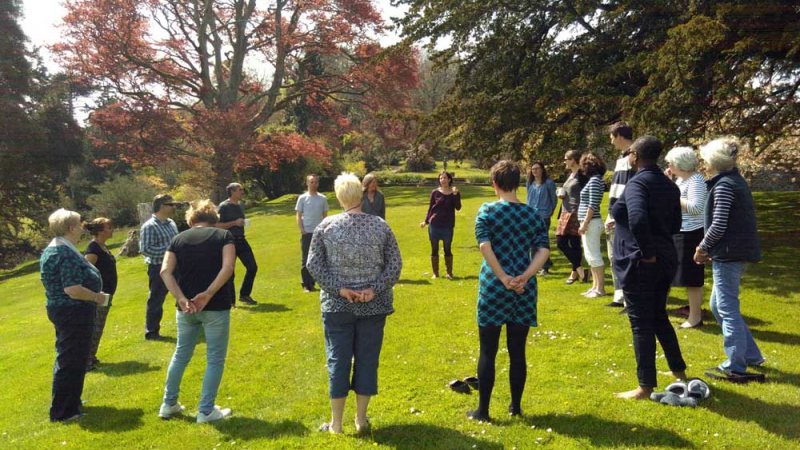 17
Sep
2017
Sharpham House: Mindfulness through singing Retreat - 4 nights (with Emily Roblyn & Linda Vincent)
---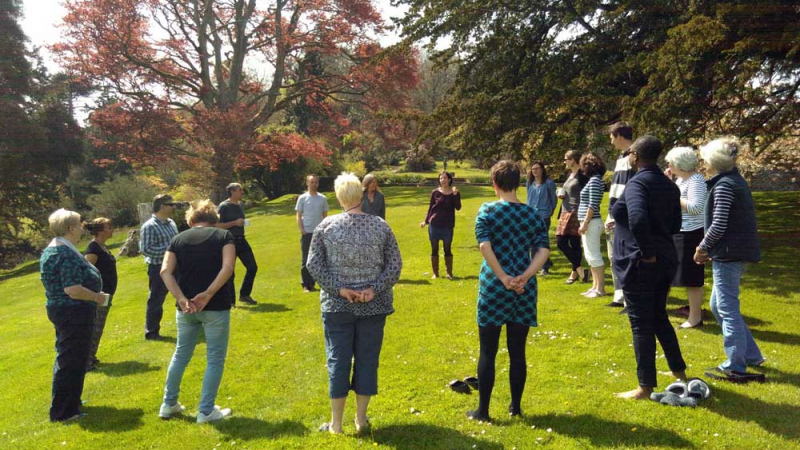 22
Nov
2017
Sharpham House: Mindfulness through Singing Retreat - 3 nights (with Emily Roblyn & Linda Vincent)
---
All rooms are single occupancy, giving you your own space in which to relax.
There will be a maximum of 20 retreatants on this retreat.
If you have a medical condition that requires you to have an en-suite room, please contact the Programme Administrator on the number below as these rooms are limited and are bookable on a first-come first-serve basis.
How to book easily and securely:
Ring us or email if you've got any questions.
Limited bursaries are available for those experiencing financial hardship. Please contact the Programme Administrator at least 4 weeks in advance if you wish to apply.
Please click here to see our booking and cancellations policy.