Woodland Retreat: Creative Writing and Nature Connection retreat
Step out of your everyday life and into a place of reflection through a synthesis of creative writing, contemplation and nature connection, with time spent under canvas and round the fire in the beautiful and tranquil setting of the Sharpham Woodland Retreat site.
---
This 3-night retreat offers a unique opportunity to step out of your everyday life and into a place of reflection through a synthesis of creative writing, meditation and nature connection.
All forms of writing can be explored within this retreat, with a particular focus on spontaneous writing, journaling and poetry. The retreat is not a course in creative writing, but rather an opportunity to engage freely in explorative writing in a non-judgmental way.
The retreat is for adults aged 18 and above and no previous experience of creative writing or meditation is necessary. The only requirement is an open and curious mind and a willingness to experiment and participate. The retreat may be useful both to writers wanting to work with creative blocks as well as to anyone interested in exploring their own creativity and self-reflection through the written word.
The retreat will be kept small in number with a maximum of 14 participants to ensure enough time to focus on individual work and group feedback.
The retreat is for you if you are:
Interested in exploring your own creativity through the written word and contemplation
Wanting to discover new ways to connect with nature and understand your relationship to nature and to yourself
Looking to unblock or rekindle your creativity
In need of rest, replenishment and renewal
Looking for tools and resources to sustain you in your everyday life
Although meditation and mindfulness can be helpful in managing stress, depression and anxiety, our retreats might not be suitable if you are experiencing major depression or other clinically diagnosed psychiatric illness such as bipolar disorder, psychosis or current self-harming. Click here for further information and details of our booking process.
...out in wild nature, under the warm sun, in a cool wind, beneath rain, enveloped in snow. Sitting round the red embers of a fire with friends, watching the stars, telling stories.

These things give us life and change our lives. They are a life support system. We all need it. Whether we know it or not.

Access
This retreat takes place in the Sharpham Woodland Retreat site in the grounds of Sharpham House, with accommodation in comfortable bell tents. The site and surrounding countryside exudes a sense of peace and tranquillity, with stunning views over the river dart in a designated Area of Outstanding Natural Beauty.
Parts of the site are on uneven ground and our programme will include some walking in the hilly countryside of Devon. Please contact us if you have physical health or mobility difficulties to make sure we can best accommodate your needs.
A welcome letter and suggested kit list of what to bring will be provided at the point of booking.
Typical Schedule
Day 1: Arrive between 4-5pm for welcoming talk and settling in:
Mornings
Afternoons
7am - wake up bell
12.30pm - guided sitting meditation
8.00am – guided sitting meditation
1.00pm - lunch and shared tasks

8.30am – breakfast and shared tasks: table clearing, washing up, kitchen cleaning

2.30pm – personal time

9.50am – meeting

4.30pm -

creative writing and nature connection

10.30am - creative writing and nature connection

6.00pm – supper and shared tasks

8.30pm – meditation session
9.00pm – Fireside time
Final day: depart 11.45am
The retreat gave me a new, refreshing perspective on my story. Caspar's energy was focused, insightful and loving - he proved an able guide in the borderlands of personal narrative.
I felt supported by the entire group and the land. I came away with a sense of reinvigoration and reorientation towards my own true north.
Please click here and follow the directions as per Sharpham House - HOWEVER PLEASE NOTE THAT THE WOODLAND RETREAT DROP OFF POINT IS NOT AT SHARPHAM HOUSE ITSELF - Look out for and follow Woodland Retreat signs once on the estate. Please note that if coming by taxi - the drivers will know the way to Sharpham House but not to the luggage drop off point. Please look out for the signs.
---
Venue/Accommodation
This retreat takes place in our beautiful woodland campsite area in the grounds of Sharpham House, surrounded by nature and with the River Dart and 550 acres of the Sharpham Estate to explore. The Estate includes a diversity of natural habitats including reed beds, salt marsh, ancient woodland with a rich variety of wildlife, flora and fauna – all set within a designated Area of Outstanding Natural Beauty.
Accommodation
Your accommodation will be in comfortable and spacious bell tents (single occupancy), which include a simple foam mattress, warm 13.5 tog duvet and bedding, coir matting, a small table and a solar light. We like to call it comfortable camping rather than glamping! The tents offer a good opportunity for those new to camping and extra comfort for more seasoned campers. Full details of the site and what to bring will be provided on booking.
There is a covered fire hearth for evenings spent round the fire. We use compost toilets on the site and there is an indoor shower available in the courtyard of the house approximately 3-4 minutes walk away, as well as 2 flushing toilets for those that prefer.
Food
Our cooks produce high-quality seasonal, vegetarian food for our guests. We source food whenever possible from our kitchen garden and support local food suppliers - we can accommodate a range of dietary needs.
All bell tents are single occupancy to give you time to yourself for rest and contemplation. The woodland campsite includes a covered outdoor kitchen and dining area and the retreat is fully catered with delicious and locally-sourced vegetarian food, as well as food foraged from the wild.
3 NIGHTS
£315 - full board - includes furnished bell tent (single occupancy) and bedding. Please bring your own towel.
Brigit-Anna McNeill - Woodland Retreat leader
Brigit-Anna trained in wilderness therapy, counselling and mentoring following her MA in Art Psychotherapy. She empowers others to feel safely held in a group setting, and her approach is strong, safe, transformational and loving. With a rare gift for getting to the heart of the matter and helping others find the deeper truth, Brigit-Anna's knowledge and passion for plants and the natural world is infectious, whether for food, medicine or spiritual ally. She loves to guide us in nature to see it as we have never seen it before; as the missing community we always craved.
---
Karin Jordan - Camp Manager, woodland retreats
Karin is an experienced holder of safe and transformational space in which people can authentically stretch and grow.
Passionate about enabling people to find their latent talent and motivation through connecting to the wild, she works as a business, creativity and life coach, nature connection guide, mentor, group facilitator and conscious cook.
In this work she enjoys a wide range of clients from artists and makers, Masters students, charities, social enterprise leaders and conscious business entrepreneurs to trainee doctors and qualified GPs. Karin thrives if she can be outdoors every day connecting mindfully to the sights, sounds and sensations.
Waking up to the morning chorus in the Sharpham campsite realises a long held dream and she looks forward to sharing this with you.
---
Caspar Walsh
Caspar Walsh has over 20 years' experience in facilitating groups, meditation and as a writing tutor and mentor. He is an author, journalist and founder of the award-winning charity Write to Freedom. His journey through life and work has been driven by a passion and belief that artistic expression, nature connection and contemplation lay the foundations for a reflective, fulfilling, joyful life.
---
Retreats & Events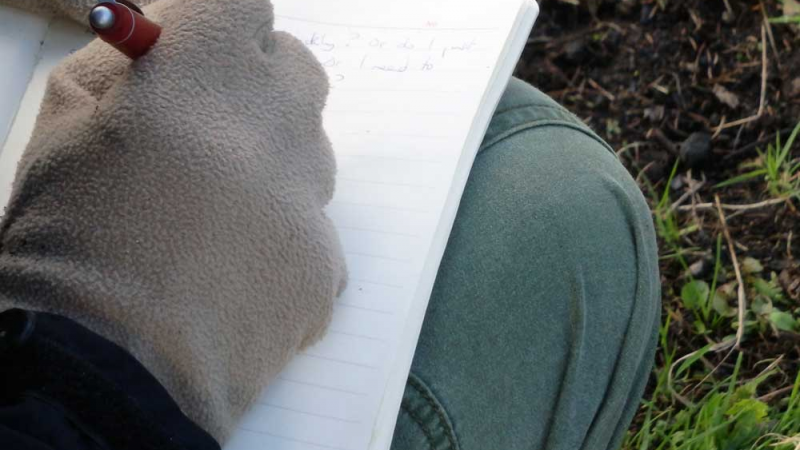 14
Sep
2017
Woodland Retreat: Creative Writing and Nature Connection retreat (3 nights) with Brigit - Anna McNeill & Caspar Walsh
---
All tents are single occupancy, giving you your own space in which to relax.
There will be a maximum of 14 retreatants on this retreat.
How to book easily and securely:
Ring us or email if you've got any questions.
Limited bursaries are available for those experiencing financial hardship. Please contact the Programme Administrator at least 4 weeks in advance if you wish to apply.
Please click here to see our booking and cancellations policy.