Creative Writing & Nature Connection Retreat
Step out of your everyday life and into a place of reflection through a synthesis of creative writing, contemplation and nature connection - in the beautiful setting of Sharpham House and its grounds.
This 3-night retreat offers a unique blend of writing, meditation and nature connection as a stimulus for your writing and as a mirror to your habitual patterns of thinking.
By developing present-moment awareness in this way, you get the chance to discover and embrace spontaneity and spaciousness, helping you to recognise self-limiting or blocking thoughts and beliefs.
The retreat is for adults aged 18 and above and no previous experience of creative writing or meditation is necessary. Just bring an open and curious mind and be willing to experiment and participate.
...out in wild nature, under the warm sun, in a cool wind, beneath rain, enveloped in snow. Sitting round the red embers of a fire with friends, watching the stars, telling stories.

These things give us life and change our lives. They are a life support system. We all need it. Whether we know it or not.
---
You'll stay in Sharpham House, our beautiful Grade 1-listed Georgian mansion set in an Area of Outstanding Natural Beauty with views over the steeply wooded River Dart.
Each retreatant will have his or her own bedroom in the House, fully catered for by our House staff, and the chance to explore the surrounding gardens and Capability parkland.
All retreat food is vegetarian, prepared by our in-house cooks and regularly receives rave reviews.
---
The retreat is for you if you are:
Interested in exploring your own creativity through the written word and contemplation
Wanting to discover new ways to connect with nature and understand your relationship to nature and to yourself
Looking to unblock or rekindle your creativity
In need of rest, replenishment and renewal
Looking for tools and resources to sustain you in your everyday life

---


Although meditation and mindfulness can be helpful in managing stress, depression and anxiety our retreats might not be suitable if you are experiencing major depression or other clinically diagnosed psychiatric illness such as bipolar disorder, psychosis or current self-harming. Click here for further information and details of our booking process.

---
Explore nature connection, contemplation and meditation as a source of creative potential
The retreat gave me a new, refreshing perspective on my story. Caspar's energy was focused, insightful and loving - he proved an able guide in the borderlands of personal narrative.

I felt supported by the entire group and the land. I came away with a sense of reinvigoration and reorientation towards my own true north.
We offer a safe and supportive setting for you to discover (or rediscover) your internal resources - and your own way toward a more joyful, harmonious life.
All forms of writing can be explored within this retreat, with a particular focus on spontaneous writing, journaling and poetry.
The retreat is not a course in creative writing, but an opportunity to engage freely in explorative writing in a non-judgmental way. The retreat may be useful both to writers wanting to work with creative blocks as well as to anyone interested in exploring their own creativity through the written word.
Navigating our way through our day to day inner life can be a confusing, overwhelming task. At any one time I can have any number of thoughts and feelings crashing into each other at varying speeds and degrees of heat.

Fear of the future, dread of the past, financial security, the laundry, the frayed thread signalling the encroaching death of my beloved jumper. To be mindful with all this going on... is a big ask.

When I bring the focus of a particular thought or feeling to the page, the act of writing it down makes it singular and real. It brings me into the precise moment; making an abstract, sometimes hard to grasp feeling into fact. This is undeniable information about what is making me tick in any given moment, alive and kicking on the page.

The focus, understanding and relief this simple process gives is extraordinary. As long as the ink or key stroke survives, words on paper can serve as present moment reminders of the strength and intelligence we can all discover but so easily forget. Especially when we are back in the grind being pulled in a multitude of directions.

And when that happens, read those words of wisdom and be here, now.

Caspar Walsh, Retreat Leader
---
Typical Schedule
Day 1: Arrive between 4-5pm for welcoming talk and settling in:
Mornings
Afternoons
7am - wake up bell
12.30pm - guided sitting meditation
8.00am – guided sitting meditation
1.00pm - lunch and shared tasks

8.30am – breakfast and shared tasks: table clearing, washing up, kitchen cleaning

2.30pm – personal time

9.50am – meeting

4.30pm -

creative writing and nature connection

10.30am - creative writing and nature connection

6.00pm – supper and shared tasks

8.30pm – meditation session
9.00pm – House moves into silence until 10.00am the next day
Final day: depart 11.45am
I came to rejuvenate and the activities and enquiries were beautifully paced. I didn't feel rushed or hurried at all. There was a gentle unfolding and expansion.
The tutors/guides were wonderfully supportive, informative and inspirational. The food was beyond delicious and the peace, tranquillity and beauty of the surroundings are exquisite.
[What I really liked about the retreat was] The gentleness, the boldness, the wisdom & support of the instructors. Being pushed beyond my comfort zone in a supportive atmosphere. The food, the camaraderie, the insights, knowledge and courage that I will take away with me.
I really experienced a much greater connectedness to nature through these few days.
Directions
Click here for directions.
Our venue
This retreat is in the beautiful and historic Grade 1-listed Sharpham House set in a Capability Brown-designed landscape with stunning views over the steeply-wooded River Dart. The retreat is full-board with delicious home-cooked vegetarian food.
---
Our food & your dietary needs
In line with sustainable practices across the Estate, our cooks produce seasonal, vegetarian food for our guests. We source food whenever possible from our kitchen garden and support local food suppliers. The Estate's farm tenants produce award-winning wine and cheese as well as organic eggs, meat and vegetables.
We are used to accommodating a wide range of dietary needs including wheat-free, diary-free, vegan etc. Please indicate on your booking form if you have a dietary need. The booking form is sent as a link once you have booked and paid for a retreat.
---
Sustainability
We take sustainability seriously. All of the hot water and heating in the House is produced by a state-of-the-art bio-mass woodchip boiler and we have 2 large photo-voltaic arrays on barn rooftops. Our gardens are managed organically and we only use bio-degradable cleaning products.
---
Costs and booking
£315 Standard room - full-board.
£365 Premium room - with views over the River Dart, full-board.
There will be a maximum of 16 guests on this retreat.
All rooms are single occupancy, giving you your own space in which to relax.
If you have a medical condition that requires you to have an en-suite room, please contact the Programme Administrator on the number below as these rooms are limited and are bookable on a first-come first-serve basis.
Book easily and securely online or by phoning 01803 732542 or emailing us
Limited bursaries are available for those experiencing financial hardship. Please contact the Programme Administrator at least 4 weeks in advance if you wish to apply
Please click here to see our booking and cancellations policy
Caspar Walsh
Caspar Walsh has over 20 years' experience in facilitating groups, meditation and as a writing tutor and mentor. He is an author, journalist and founder of the award-winning charity Write to Freedom. His journey through life and work has been driven by a passion and belief that artistic expression, nature connection and contemplation lay the foundations for a reflective, fulfilling, joyful life.
---
Brigit-Anna McNeill - retreat leader
Brigit-Anna trained in wilderness therapy, counselling and mentoring following her MA in Art Psychotherapy. She empowers others to feel safely held in a group setting, and her approach is strong, safe, transformational and loving. With a rare gift for getting to the heart of the matter and helping others find the deeper truth, Brigit-Anna's knowledge and passion for plants and the natural world is infectious, whether for food, medicine or spiritual ally. She loves to guide us in nature to see it as we have never seen it before; as the missing community we always craved.
---
Retreats & Events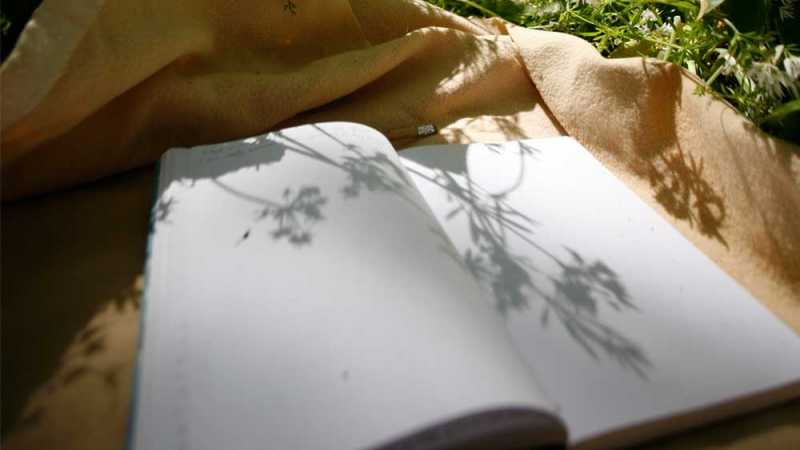 24
Feb
2017
Sharpham House: Creative Writing & Nature Connection Retreat - 3 nights (with Caspar Walsh & Brigit-Anna McNeill)..
---